Petrol Price in Pakistan Today 4th August 2022
Let's discuss Petrol Price in Pakistan Today 4th August 2022. Finance Minister Miftah Ismail announced on Friday that the government has decided to decrease the price of petrol by Rs.3.05 on 1st August, after which the product will sell at a record Rs.227.19 per liter.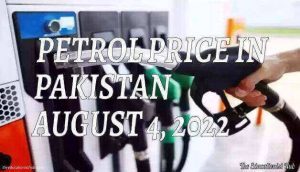 "The [government] will not suffer any more losses from petroleum products," the finance minister said during a news conference, urging the masses to shoulder the burden for a few months as the government has no choice.
Latest Petrol Price in Pakistan 4 August 2022
Miftah Ismail said the new Petrol prices would come into effect from 11 am on August 1.
| | | | |
| --- | --- | --- | --- |
| Commodity | Previous Price | New Price | Change in Price |
| Petrol  | Rs230.24 | Rs227.19 | -3.05 |
| Diesel  | Rs236.00 | Rs244.95 | +8.95 |
| Kerosene Oil | Rs196.45 | Rs201.07 | +4.62 |
| Light Diesel Oil | Rs191.44 | Rs191.32 | -0.12 |
"We know people would suffer, but we were powerless because the other way was the way of destruction. We will not take the country there," said the finance minister.
The government finance minister would soon control inflation and bring relief to the people.
Imran Khan Deliberately Lowered The Prices
At the beginning of the press conference, Miftah, who was accompanied by Oil Minister Musaddaq Malik, criticized the previous government's policies, which had "worsened the country's economy".
"Imran Khan deliberately lowered petrol prices by providing subsidies," Miftah said, adding that the incumbent government bears the brunt of these decisions.
He said Pakistan is currently losing 24.03 rupees per liter on petrol, 59.16 rupees on diesel, 39.49 rupees on kerosene, and 39.16 rupees on light diesel.
He said that the loss surpassed Rs. 120 Billion in May, three times more than Rs. 40 Billion.
We Reject This Robbery
In response to the development, PTI leader Fawad Chaudhry took to Twitter and announced that his party had opposed the surge in petroleum products.
"We pushed back this robbery with all our might in the middle of the night," he wrote.
"The rise in petrol prices has broken the middle class. People should join the protest against this incompetent government."
Also Read: Petrol Price in Pakistan Today 3rd August 2022